Beef Master is a sponsor and partner with the University of North Carolina Tar Heels. If you're a Tar Heel fan, you've heard Woody Durham talk about eating Beef Master franks during the UNC games.
Whether you're at Kenan Stadium watching a football game or in the Smith Center for a classic Carolina basketball match-up, there's nothing better than a Beef Master hot dog to satisfy your hunger pangs. Eat what the Tar Heels eat—Beef Master hot dogs.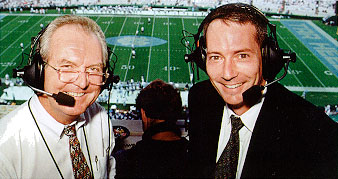 Voices of the Tar Heels Woody Durham and Mick Mixon.

Beef Master Franks
is also a proud sponsor of the


Associations that Curtis Packing is proud to be a part of:
American Meat Institute
National Hot Dog & Sausage Council